Line-up for Champions Willberry Charity Race announced Selected riders to join Skelton, Fox-Pitt, Hobday and Cook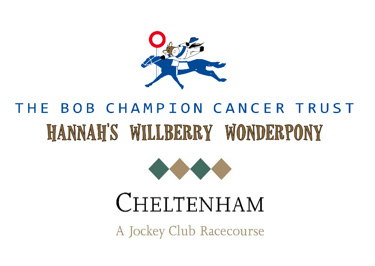 Over 600 members of the public applied to ride in the Champions Willberry Charity Race at Cheltenham, the Home of Jump Racing on Thursday 20 April 2017. The race is in aid of The Bob Champion Cancer Trust and Hannah's Willberry Wonder Pony Charity. Each selected rider has pledged to raise a minimum of £2500 and it is hoped the day will make at least £100,000 to be split evenly between the two charities.
Bob Champion said:
"Selection was so hard. Everyone who applied was worthy so it all came down to suitability and fundraising. We hope we have got a good mix of people and that everyone else still comes along on the day, to join us for lunch, or just to watch, and to be a part of this special occasion."
Ian Peters, Trustee of Hannah's Willberry Wonder Pony Charity says:
"We never cease to be amazed at the generosity and spirit of our supporters and we want to thank everyone who applied to ride in this race. Bob and Hannah are both an inspiration to the equestrian community and our shared goal of #kickingcancersbutt unites the charities in a common purpose. Now we want everyone, riders and supporters alike, to come and support the brave riders and both charities on the day."
Ian Renton, from Cheltenham Racecourse added "The number of applicants to ride in the race were more than any of us could have expected and we'd like to thank everyone for their interest in the event. Selecting the final riders was incredibly hard but I believe we have a great line up of people to take part and hopefully raise plenty of money for two such worthwhile charities."
Joining Nick Skelton, Ben Hobday, Tina Cook and William or Alice Fox-Pitt will be:
(In alphabetical order):
Madeleine Bunbury, 21, is an artist based between Dorset and Mustique. She is a loyal supporter of Hannah's Willberry Wonder Pony charity.
Anne Dawson, 37, from Bishops Stortford in Hertfordshire, is a policewoman and passionate equestrian. She feels the race is a legacy to Hannah Francis's "bravery and memory" and Bob Champion's inspirational story.
Abigail Dean, 27, from Gloucestershire, is an event rider who previously worked for the late Sir Henry Cecil, who himself fought cancer so bravely.
Sheikh Fahad Al Thani, 27 of Qatar is Chairman of Qatar Racing, a passionate supporter of British Racing and an equestrian enthusiast who recently took part in the 2016 Mongol Derby.
Scott Lowther, 46, a construction company director from Scotland.
Catherine Mills, 33, from Amersham, works for a member's only lifestyle and management company and is a keen event rider in her spare time.
Ben Moore, 39, is a soldier from Melton Mowbray. Before he joined the Army, he worked in racing and wants to do this race for his daughter who loves ponies but is currently fighting cancer.
Jasean Spraggett, 24, from Leicestershire, is a showing and working hunter rider. Nicknamed 'Quevega' due to her love of all things Cheltenham, she has set herself an ambitious target of money she plans to raise for the Champions Willberry Charity Race.
Reserves (in alphabetical order):
The reserves are Kim Franklin, 50, a property landlord from Hertfordshire. Ross Sanderson Jago, 39, a Bid Manager from Buckinghamshire and Alison Tyas, 36, a nursery assistant from Norfolk.
Please go to www.championswillberry.org.uk for all details of how to get involved in sponsorship of the race and the jockeys riding, how to attend the race and lunch on the day and how to donate.
About The Bob Champion Cancer Trust
Bob Champion was diagnosed with cancer in two parts of his body at the height of his riding career. The dream that kept him going through the long months of chemotherapy was that one day he might win the Grand National on Aldaniti. Against all the odds, in 1981 his dream came true. Following racing's greatest fairy-tale, The Bob Champion Cancer Trust was founded to raise funds to research testicular, prostate and other urological cancers. The Trust has funded the building of two research centres, The Bob Champion Cancer Research Laboratory, which forms part of the largest male dedicated research facility in Europe, situated at the Institute of Cancer Research in Sutton, Surrey, and the Bob Champion Research and Education Building at the University of East Anglia in Norwich, Norfolk. Both centres house research teams supported by the Trust. www.bobchampion.org.uk
About Hannah's Willberry Wonder Pony Charity
Talented horse rider, Hannah Francis, was diagnosed with aggressive bone cancer in 2015. She was just 17 years old. In the year and half that followed Hannah, always aided by her mascot toy pony, Willberry Wonder Pony, amazed the equestrian community and people all over the world with her drive and determination. She continued to ride, even riding internationally under GB colours, and fulfilled many of her 'bucket list' wishes. Even more remarkably, she turned her sights to what she could do to help people in her position in the future. In constant pain and undergoing relentless rounds of treatment she set up Hannah's Willberry Wonder Pony Charity, registered in March 2016 (reg charity no 1166416). The charity funds bone cancer research, especially into osteosarcoma, and grants equine related wishes to seriously ill people. www.willberrywonderpony.org
For Further Information For further information about the Champions Willberry Charity Race Day go to www.championswillberry.org.uk or contact Liz Ampairee, liz@lizampairee.com 0773 333 1945 or Lucy Wilkinson lucy@bobchampion.org.uk 0207 924 3553.