Bob's 40for40 Anniversary Walk 11th April - 15th May 2021
Bob can be supported here: https://www.justgiving.com/fundraising/bob-champion2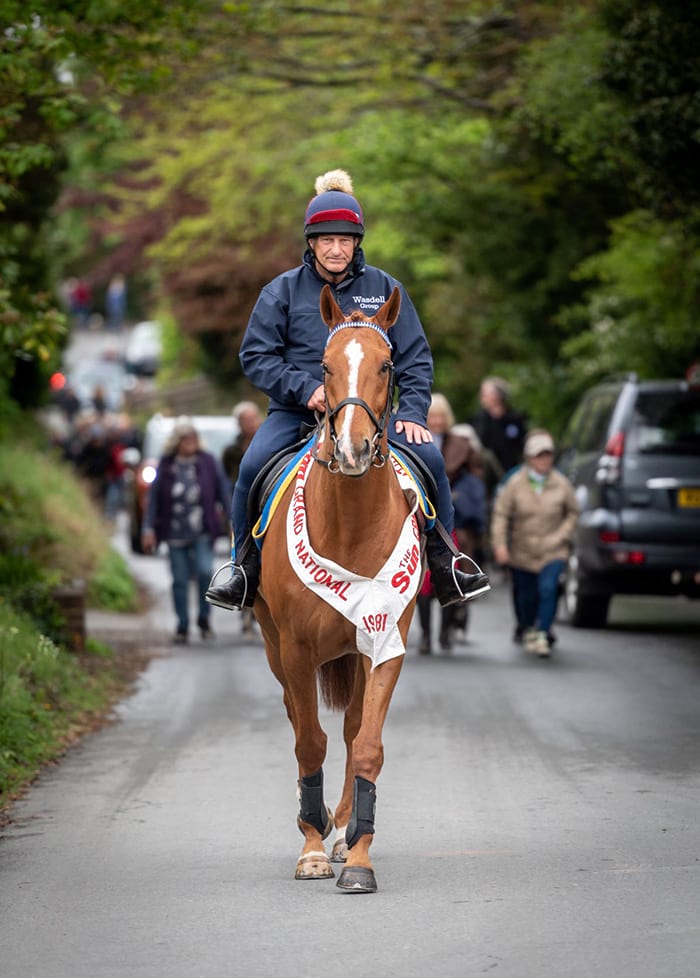 Saturday 15th May saw Bob complete the last 'leg' of his 40For40 Anniversary Walk by riding an Aldaniti lookalike up the same Sussex Lane Aldaniti paraded as he returned home, victorious, from Aintree 40 years before. Bob's 191-mile non-linear route, to mark the 191 days of cancer treatment he underwent, started at Aintree on Sunday, 11th April following the Grand National and took in 40 stops, mainly walking on trainer's gallops along the way. He also visited Aldaniti's grave at Barkfold Manor and went to the Institute of Cancer Research and Royal Marsden Hospital in Sutton. The last few miles were walked on the famous Findon Gifford gallops where Aldaniti was trained. Bob took to the saddle for the first time in years to ride a very emotional final mile.
The walk has raised an incredible £108k, securing the ongoing funding of the Trust's vital research programmes following the devastating effect of the pandemic. Bob, himself, is totally thrilled by the result, especially as he has now undergone, and is recovering well, from surgery to remove a tumour on his kidney. The tumour was only discovered just days before the walk started, characteristically, he was determined to carry on with the walk and not let people down.
The Trustees, with Bob, would like to express their very grateful thanks to everyone involved, our amazing sponsors Wasdell Group, George Smith Horseboxes and Recycled Products, to all the fabulous trainers who welcomed Bob and members of the public - plus the occasional Shetland pony and rider - to all those wonderful people who accompanied Bob on his walks, and to all of you, who dug deep in difficult times to sponsor them and Bob in his efforts.