Research Report
The Bob Champion Cancer Trust is funding a research project in the laboratory of Professor Colin Cooper. Colin comes from Swaffham in Norfolk. He obtained his first degree at the University of Warwick and has trained at the National Institute of Health and at the Dana Farber Institute in the USA. Colin and his laboratory have been responsible for identifying cancer genes involved in the development of sarcomas, kidney cancer and, bladder cancer. These discoveries have underpinned the development of specific molecular tests for individual cancer types including synovial sarcoma.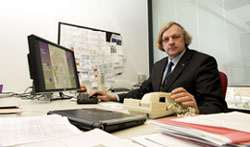 Professor Cooper is currently Chairman of the National Cancer Research Institute's South of England Prostate Cancer Research Collaborative Centre and his research interest include understanding the aetiology of human prostate cancer, and improving the treatment of patients with this disease. A particular problem is the highly variable natural history of prostate cancer causes significant problems in its clinical management.
Over-treatment of prostate cancers is a particular concern leading to substantial inappropriate morbidity (impotence) in a high proportion of cases. This is especially true for PSA screen-detected cancers that are mostly biologically irrelevant and in the absence of treatment would never become life threatening. Conversely, more conservative approaches to disease detection and management may leave potentially aggressive cancers untreated. The Bob Champion Cancer Trust is funding a project aimed at identifying improved clinical markers (biomarkers) that will to allow radical therapies such as surgery and radiotherapy to be targeted to men with significant cancers, so that the remainder, with biologically unimportant disease, are spared the side-effects of treatment.